Wednesday 31 October 2018

Bill Graham Civic Auditorium
88 Degrees & Rising Tour: Rich Brian, Joji, Keith Ape & Higher Brothers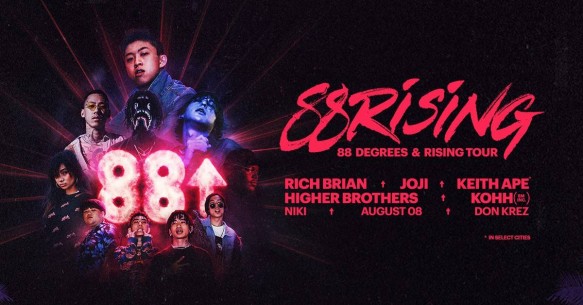 Rich Brian and the 88Rising label are bringing their 88 Degrees & Rising tour, to the Bill Graham Civic Auditorium on Wednesday 31st October, along with label mates Higher Brothers, Keith Ape, Joji, Kohh, Niki, August 08 and Don Krez!
88rising (stylized as 88⬆) was founded by Sean Miyashiro as a hybrid management, record label and promotions company, as a platform for Asian artists such as Keith Ape and Rich Brian!
Rich Brian is an Indonesian rapper who's debut single, Dat $tick was certified Gold by the RIAA! Earlier this year he released his debut album, Amen, which peaked at number 18 on the Billboard 200.
Joji is a Japanese-Australian rapper and producer who started as a YouTube entertainer. His videos had global impact, starting the Harlem Shake craze. His debut EP, In Tongues, peaked at 58 on the Billboard 200!
Keith Ape is a South Korean rapper and a member of The Cohort crew. His breakout single It G Ma went to number 5 on Billboard K-Town. His concerts were recently was listed by the New York Times as a top 40 pick for unrestrained mayhem!
This is going to be an awesome and unique show and a great start to the Fall season, buy your tickets today and support these amazing artists!