Saturday 29 September 2018

Bill Graham Civic Auditorium
Bassnectar, The Glitch Mob & Dead Prez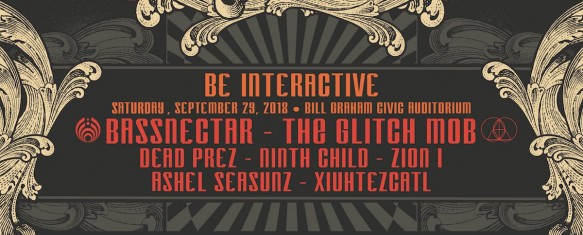 Bassnectar are pleased to bring their non profit project, Be Interactive, to the Bill Graham Civic Auditorium on Saturday 29th September!
Combining charity initiatives, community enrichment programs and a plethora of creative campaigns designed to promote engagement, inspire activism and encourage people to get involved with their communities, the project is more than just a one off event.
This show is the first fundraiser for Be Interactive and Bassnectar, The Glitch Mob, Dead Prez, Ninth Child, Zion i, Ashel SeaSunz, and Xiutezcatl Martinez are all gathering to throw down in support of this consciousness-raising cause.
With a special focus on the upcoming elections and how to promote voter fairness and justice, 100% of the show's proceeds will go to charity, with an aim to raise $100,000 for Be Interactive campaigns & initiatives! Support change and buy your tickets today!