Saturday 13 April 2019

Bill Graham Civic Auditorium
Excision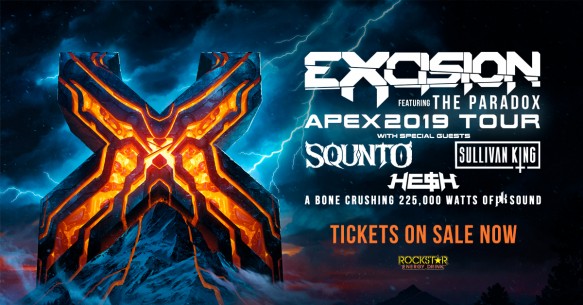 Excision is back at the Bill Graham Civic Auditorium for 2 nights for his Apex tour, this seecond of which is on Saturday April 13.
A producer of dubstep, drum and bass, and breakbeat, Excision is known for his dark, bass-heavy music, incorporating the morphing basslines of drum and bass, the aggressive energy of metal, and the laid-back vibes of hip-hop. Since he began producing music, Excision has become one of the most prominent musicians in the North American dubstep community.
The line-up for Friday, April 12th is
EXCISION
BLACK TIGER SEX MACHINE
SUBTRONICS B2B TBA
DOWNLINK
SULLIVAN KING B2B WOOLI
SUBDOCTA
To buy tickets for the Friday April 12th event, please go here.
The line-up for Saturday, April 13th is
EXCISION
VIRTUAL RIOT B2B BARELY ALIVE
DION TIMMER B2B DUBLOADZ
TBA
TBA
SULLIVAN KING
TBA
Excision completely packed the Bill Graham Civic Auditorium TWICE in 2018 and is set to do the same in 2019, so if you want to see Excision for his Apex tour buy your tickets now before they sell out.
If tickets for Excision on Friday April 12 are sold out, tickets might still be available for his second night on Saturday here.